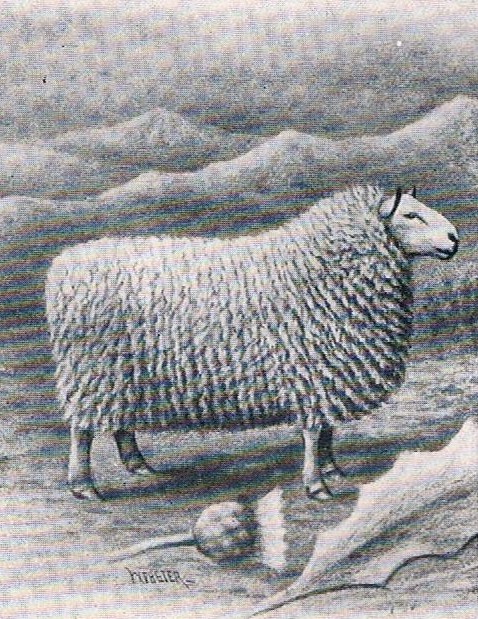 Border Cheviot Sheep
by Shepherd's Bounty.
The hardiest, healthiest,
handsomest of the breeds.
   With four distinct seasons, lush productive valleys and abundant water. Chewelah, Washington offers a bountiful environment in favor of raising an award winning flock of Registered Border Cheviot sheep. Established in 1975, Shepherd's Bounty mission has been to "see the future by looking into the past". Breeding and promoting classic Border Cheviots, our flock is built on traditional old style blood lines.
    Shepherd's Bounty Border Cheviots are genetically distinct, geographically concentrated and adapted to their environment. Distinctive helical crimp wool and the long, broad bodies and short legs of turn-of-the-century Border Cheviots set us apart from other breeders. We believe these traits have enabled us to help others enhance their flocks with some very efficient sheep that achieve well in the field and then go on to be impressive additions to their flock. 
   It is generally known that, when properly managed, sheep are the most profitable and rewarding animals on the farm. They are economical producers, and require less feed and labor for the production of meat and wool.  
   All indications at the present time point to the beginning of a new period in the sheep industry of the United States. Here is your chance! If you want to raise lambs that will consistently bring the premium price on the market, at the lowest possible cost of production, and you want to do it mostly on pasture, try a sheep of the hardiest and thriftiest of all the breeds, the Border Cheviot, from Shepherd's Bounty.  
With Regards, 
Dean and Kari Hyden, Flockmasters